Hebrew Aramaic Peshitta (PDF files)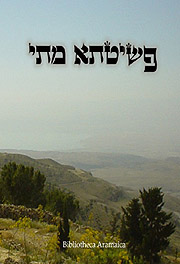 "The generosity of the Peshitta text is only seen when one approaches it without agenda. It illumines the eyes to the truth of M'shikha and opens the hands to generosity to share with others." (Aran Younan)

The text in these files is in Aramaic with square Hebrew type (font).
Copyright © 2007-2010 HebrewAramaic.org, Ya'aqub Younan-Levine. Bibliotheca Aramaica
Original design by Steves Templates